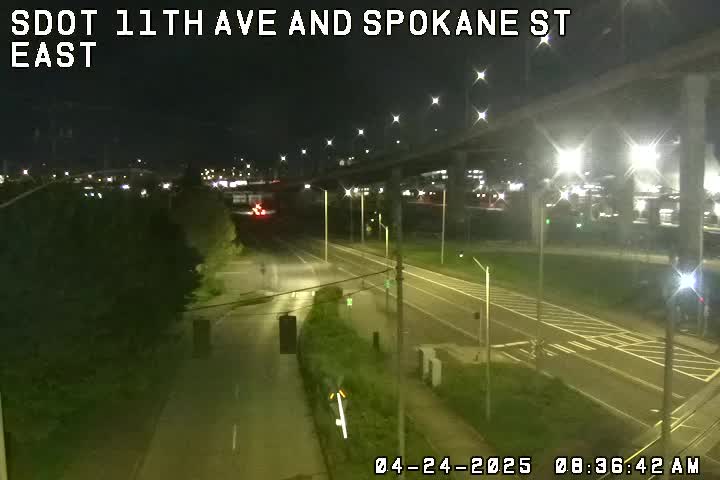 West Seattle Blog… | UPDATE: the low bridge reopens; here is what went wrong
11:01 am: Metro is currently redirecting buses to the 1st Avenue South Bridge due to a "mechanical problem" on the West Seattle Low Bridge – which is closed to all surface traffic. More info when we have it.
12:07 p.m .: Its status is unclear at this time – it's open for a barge to pass, SDOT director Sam Zimbabwe said when we asked for an update before the high deck briefing ended, but he thought he would revert to normal surface traffic after that. We will continue to check.
12h58: Just reopened.
ADD 4 PM: The reopening happened just as we were being escorted to the high deck for photos of the work crew. We also saw this rescue truck that piled up during the closure of the low bridge:
ADD 18:12: We asked SDOT what was wrong. Their response :
Operations on the Spokane St Bridge (West Seattle Low Bridge) were halted today due to two separate mechanical issues with the bridge's hydraulic system and the central locking mechanisms. This incident was unrelated to mechanical issues that affected bridge operations earlier this month, November 3-5.

At around 11 a.m. this morning, the bridge opened to allow a ship to pass. SDOT Bridge operations crews observed irregularities in the movement of the bridge and discovered a hydraulic fluid leak in one of the west pier's pump lines, allowing the bridge to open and close. shut down (a different pump than the one that was replaced earlier this month). While crews were able to return the bridge to the closed position despite the hydraulic fluid leak, they were unable to briefly open the traffic barriers that allow vehicles to use the bridge due to the protection of the central locking mechanism. of the bridge which was triggered by a mechanical switch fault which sent an erroneous signal indicating that the central locking had not been engaged. The crews were able to adjust the central locking security and reopened the door to vehicle traffic shortly before 1 p.m.

Since that time, crews have continued to work to recheck other bridge systems and repair the hydraulic fluid leak. This work can be done while traffic is passing over the bridge. We will only open one leaf of the bridge at a time during these repairs, but do not expect this to have a noticeable effect on vehicle or vessel traffic. We can also do brief bridge openings to test the systems later in the evening after peak traffic is over.