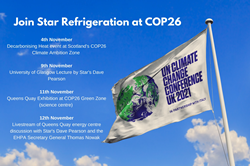 Star Refrigeration will participate in several COP26 events
Sustainable cooling and heating underpin each of the priority themes at COP26 and we are excited to share our breakthrough technology that can help businesses and communities achieve net zero.
GLASGOW, United Kingdom (PRWEB)
November 02, 2021
Star is delighted to announce its participation in a number of high profile events at the upcoming COP26 in Glasgow. From October 31 to November 12, Scotland's largest city plays host to political leaders and heads of state from around the world, as countries around the world come together to try to resolve the climate crisis.
United by a common mandate to limit global warming to 1.5 ° C, participants will participate in a series of discussions, workshops and exhibits as they seek to tackle the greatest challenge in the history of humanity. Current commitments are believed to limit warming to only 2.7 ° C.
Dave Pearson, Group Sustainability Director at Star Refrigeration, said: "Sustainable cooling and heating underpin each of the priority themes at COP26 and we are excited to share our breakthrough technology that can help businesses and communities. to reach net zero. The rhetoric is very strong, but the reality is that gas combustion is rarely mentioned with a heavy emphasis on the use of coal. With all eyes on Glasgow this month, we are proud to showcase what Scottish engineering can achieve at this pivotal moment in history. "
"We are excited to be able to play a small role and look forward to sharing our expertise with as many interested stakeholders as possible to create a greener future for all. "
As part of Scottish Enterprise's COP26 lineup, Star Renewable Energy was named a keynote speaker at the Decarbonising Heat event on November 4, 2021. The discussion will offer an exploration of heat decarbonization projects in Glasgow and its surrounding areas. surroundings and highlight the potential for regeneration through the deployment of zero carbon heat. Scotland [ClimateAmbitionZone[ZoneAmbitionClimatique[ClimateAmbitionZone will run alongside the main program of COP26.
Dave Pearson will also make a presentation at the University of Glasgow at Event organized by the Institute of Engineers of Scotland on November 9. Among other topics, Dave will discuss the future role of heat pumps in decarbonizing the district heating sector, with a particular focus on how these ideas implemented at Queens Quay can be replicated in other cities so that 'they can also switch from gas-fired heat pumps to river heat pumps. and save around 85% of CO2 emissions.
In a unique occasion, Star's work with West Dunbartonshire Council, which saw the construction of the UK's largest industrial high temperature water heat pump at Queens Quay in Clydebank, will be the backdrop for a series of 'fireside conversations' led by Thomas Nowak of the European Association of Heat Pumps. The project won the Heat Pump City of the Year award from the European Heat Pump Association (EHPA) in 2021 and has been preselected for the H&V Awards Heat Pump Project of the Year, as well as the Outstanding Project Award at the Scottish Green Energy Awards, a testament to the Council's leadership and its prime contractor Vital Energi.
Star will join West Dunbartonshire Council at the Council's one-day exhibition stand in the United Nations Climate Change Conference 'Green Zone' on Thursday 11 November. In addition to showcasing the incredible work being undertaken at the Queens Quay site, the booth will also showcase the Council's net zero ambitions for 2045 and their climate change strategy. You will find more information about the exhibition here, while tickets for the green zone are available here.
The discussion on the key role heat pumps will play in decarbonising heating and cooling will take place at the Queens Quay Energy Center with Dave Pearson and EHPA General Secretary Thomas Nowak on November 12. Those particularly interested in heat pump technology are invited to listen to the live discussion via Star's Twitter account or via a recorded podcast which will be available through Star's COP26 heating and cooling hub at https://www.star-ref.co.uk/cop-26/
Star experts will also attend the COP26 negotiations as official observers representing the European Association of Heat Pumps in the Blue Zone, which is a UN-managed space where negotiations take place between 197 parties. Dave Pearson commented: "Just a few years ago, on the other side of the Clyde, I was interviewed by Gary Robertson of BBC Scotland and I said without hesitation that large parts of the city could be heated from the Clyde. We may not have done it in Glasgow, but we did in Clydebank. Queens Quay is a beacon of hope showing immediate action that could be followed this year in other cities. It must be the COP of immediate action, creating jobs, cleaner air and significantly reduced CO2 emissions. Anything less is societal suicide that makes us the dumbest generation in human history. "
For more information on Star and the company's pioneering sustainable technology, visit: http://www.star-ref.co.uk
Share the article on social media or by email: