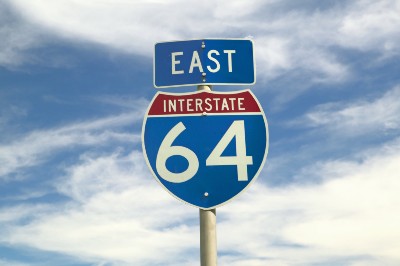 Crews begin debris cleanup operation on I-64 between Shadwell and Short Pump
Over the next several weeks, drivers of Interstate 64 from Albemarle County to Goochland County will see crews removing trees, branches and other debris from the shoulders and median of the freeway. Teams will use open-top semi-trailers equipped with grapple claws to load debris onto trucks and transport it to disposal sites.
There will be mobile and fixed work areas with right shoulder closures between 7 a.m. and 5 p.m. for the next three to four weeks. Motorists should be alert to signs and slow down when approaching work areas and expect large vehicles and workers to be near open traffic lanes. Once the right side of the freeway is clear, the teams will move to the median. While trees and debris are cleared from the median, the left shoulder and left lane will be closed to accommodate trucks and other equipment and provide a safe workspace for crews.
Thousands of trees fell on an 80 km stretch of I-64 in Albemarle, Fluvanna, Louisa and Goochland County in the major storm that hit the Commonwealth on January 3. These trees blocking the traffic lanes were cut into movable pieces and pushed towards the shoulders to allow the snowplows to continue to move forward and keep the road open. Many other trees have fallen in the "open area" outside the shoulder and pose a hazard if a vehicle goes off the road.
Four debris removal crews work on the eastbound freeway from Exit 124 in Shadwell, four other crews work on the westbound lanes from mile post 176 in Henrico County to the kilometer terminal 124 in Charlottesville. The operation is a cooperative effort between the Culpeper and Richmond Districts of VDOT and the Virginia Department of Emergency Management, and involves several contractors specializing in debris removal and monitoring.
The vacant rest area at mile post 145 eastbound will be used as a temporary debris management site. Debris will be dumped there and crushed into shavings for final disposal. Drivers should be aware of trucks exiting and entering the freeway and avoiding the eastbound right lane in this area.
In Richmond and Culpeper Districts, assessments of the amount and location of debris on VDOT rights-of-way on primary and secondary roads are underway. Once these assessments are completed, districts will coordinate with contractors to remove debris along these roads.
VDOT's customer service center is open 24 hours a day to answer questions and take reports on road hazards. Call 1-800-FOR-ROAD (367-7623) or contact us online at https://my.vdot.virginia.gov. Information on travel conditions and local incidents is posted on Facebook and the Culpeper District Twitter account, @VaDOTCulp, and the Richmond District Twitter account, @VaDOTRVA.
The District of Culpeper includes the counties of Albemarle, Culpeper, Fauquier, Fluvanna, Greene, Louisa, Madison, Orange and Rappahannock, while the District of Richmond covers Amelia, Brunswick, Charles City, Chesterfield, Dinwiddie, Goochland, Hanover, Henrico (main roads only), Lunenburg, Mecklenburg, New Kent, Nottoway, Powhatan and Prince George counties.
Related