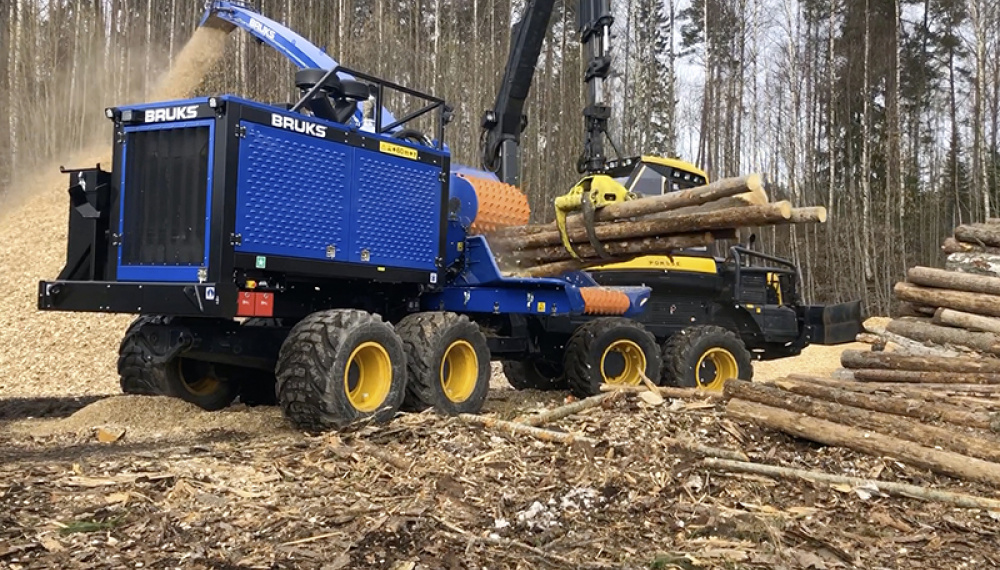 Bruks Siwertell modernizes its mobile shredders
Bruks Siwertell has updated its Model 1006 ST series of mobile chippers. The developments offer added value to customers in the forestry and wood processing industries through digital advancements, higher yields, reduced hydraulic oil requirements and lower fuel consumption; contribute to the goal of improving sustainability across the entire Bruks Siwertell product range.
Bruks Siwertell mobile drum chippers offer extremely flexible operations and can be used off-road, roadside or in terminals to produce quality biofuel woodchips from forest residues, brushwood, logs and full-length trees.
The latest 1006.2 ST unit is fitted with Volvo's state-of-the-art TWD 1683VE diesel engine, which was launched in 2021, and delivers nearly 800 hp while meeting European Union (EU) Stage V regulations; the most stringent emission requirements for off-road engines.
Compared to previous models, the new engine has a higher power output of 585 kW (796 hp) and much higher torque rated at a maximum of 3650 Nm. Together this provides an average of 11% more power and torque additionally in the speed range used during shredding.
Bruks Siwertell has also designed a new hydraulic system, which is now fitted to a number of Bruks advanced mobile crushing units. The 1006.2 ST hydraulic oil tank has a patented CycloneConcept insert, which bleeds the return oil and allows the volumes of hydraulic oil required to be considerably reduced, approximately 250 liters less oil compared to technology traditional. This therefore also reduces the size of the stainless steel tank. The overall result minimizes environmental impact and operating costs.
With the ability to handle full length trees and logs up to 60cm in diameter, the Model 1006 ST is the largest unit in the Bruks mobile chipper series. It was initially introduced in 2015, with the full series being launched and delivered soon after in 2016. 1006 ST then became very popular and renowned for its robustness, simplicity and high productivity, as well as low fuel consumption .